Chimpanzee trekking is one of the most popular adventures that are often included in Rwanda safaris. The activity is quite amazing!  Chimps are stubborn, noisy and very mobile. Because they are lighter, they spend a lot of their time on top of the trees unlike mountain gorillas. Mountain gorillas are very gentle and peaceful. They will eat quietly and interact with less provocation and drama in the group. Tracking chimpanzees requires one to be fit enough in order to follow the primates for long periods as they make quick movements both on the ground and on top of trees before settling down.
Explore the wilder side of Rwanda by going chimpanzee tracking in Nyungwe Forest National Park. Nyungwe Forest National Park is home to over 500 chimpanzees and Chimpanzee tracking is without a doubt one of the most popular activities in Nyungwe Forest. Rwanda is not a mass tourism destination and the activity is done privately or in a small group. Not normally an outdoor person? Don't worry, a professional guide will tell you about every mysterious thing you see in the forest and a professional tracker will help you locate the primates. Raincoats, boots and walking sticks are available if you need them.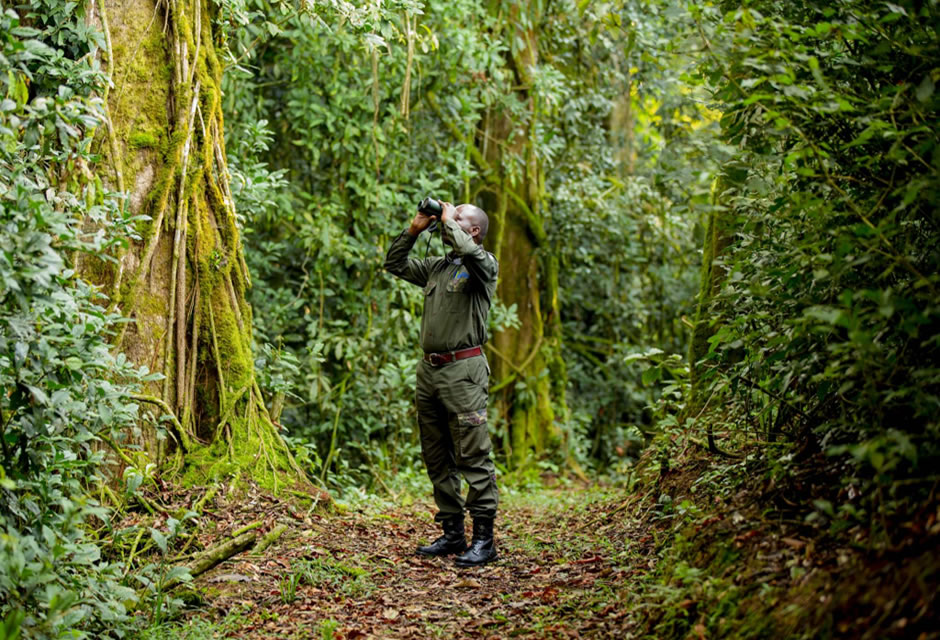 Chimpanzee tracking in Nyungwe Forest can be done in two locations in and you will want to choose the area for the activity close to where you are staying. Nyungwe Forest is large, and you will want to avoid unnecessary transport to your chimpanzee tracking location, especially since the activity starts early in the morning. The park rangers should choose the location for you depending on where you are staying.
Chimpanzee tracking in Nyungwe Forest is an early morning activity and prepare to be away at least until lunchtime, but this can vary depending on the location of the chimpanzees during your visit. You need to pre-book the activity at the latest the day before, but preferably earlier. Chimpanzee tracking can be organized through the Visitor's Center at Uwinka, the Gisakura Park Office or through a private tour operator. To know if a tour operator in Rwanda is officially licensed, head over to the RTTA Website. Most of the accommodation providers around Nyungwe Forest will be able to assist you to book, but you should really book your chimpanzee tracking ahead of departure to Nyungwe to make sure that the activity is available when you plan on doing it.
The price for chimpanzee tracking in Nyungwe Forest can seem quite high, but the activity itself is not organized by any commercial company. All the money goes back into conservation or to the communities living around the park. Knowing about the long history and struggle of Nyungwe National Park and the challenges of conservation among some of the poorest communities in the world, the price for the park activities is not so high in proportion. No matter if you book your chimpanzee tracking through an operator, the park office or a travel agent, they will need to book an official permit for you. You can do this yourself in the government system Irembo, but it is quite complicated and you should ideally have someone book it for you.
Chimpanzee tracking in Nyungwe Forest is done in a small group accompanied by an experienced guide, ranger and tracker from the park. Most guides and rangers in Nyungwe Forest have been working in the park for many years and many come from the areas around Nyungwe. The largest group size when tracking chimpanzees is eight people in a group, but often the groups tend to be smaller than this. Children under the age of 15 are not allowed to do chimpanzee tracking.
Guide to Chimpanzee Tracking
Chimpanzee trekking begins with briefing at 5:00am. The briefing takes place in either Uwinka Gisakura or Kitabi. You need to wake up as early as 4:30am so that you take breakfasts and prepare to start the activity. As already mentioned above, the forest is large. The only way to find the chimps is to try and reach them before they head out for the day. A group of trackers go ahead of the team to find the location of the chimps before communicating to the lead Ranger /Guide about where to find them. The trackers and rangers are very experienced and knowledgeable about the chimp communities and where to find them.
Chimpanzee tracking in Nyungwe forest can take between 2 to 6 hours or longer. After following/chasing the chimps for a while, they may settle down and allow you to observe them more closely or take photos. While with the chimps you will notice that they behave just like we humans. You will watch them groom each other, mate, breastfeed, play and start fights. Some members of the group are quiet while others are more vocal. Like humans, they have their group dynamics and internal politics. Although chimps are curious about humans, they will tend to keep their distance.
Note: As a large forest, Nyungwe presents challenges for those interested in chimpanzee tracking. The chimpanzees tend to move deep into the thick forest reducing the chances of seeing them. Unlike Cyamudongo forest that is smaller and easy to cover in a short time on foot.
Chimpanzee Trekking inside the main Nyungwe Forest
Chimpanzee trekking inside the main forest of Nyungwe National park starts at the Uwinka Visitor's Center. The tracking starts at 5:30 am and you should be there ahead of time to register and get organized with your guide. The tracking is done inside the main forest and usually you will be tracking a large group of chimpanzees which consists of around 60 individuals. Tracking here is a good choice if you are staying in or close to the park.
Chimpanzee Trekking in Cyamudongo Forest
A bit outside the main Nyungwe Forest is the smaller Cyamudongo Forest. This patch of forest is a conservation area and home to a group of around 30 chimpanzees. The tracking starts at 5 am from Gisakura Park Office. Registration and payment for chimpanzee tracking must be done the day before. Cyamudongo Forest is a good place for chimpanzee tracking if you are staying in Rusizi or Gisakura. It is about 1h 30 mins with a 4WD drive from Gisakura Guest House and about 1 hour driving from Rusizi.
Tips and packing list for Chimpanzee tracking in Rwanda
Chimpanzee trekking in Nyungwe forest is organized throughout the year. However, the best time for chimpanzee trekking in Nyungwe National Park is during the rainy/wet season. During this time, there is plenty of food in the forest which limits the movement of the chimps. During the dry season, the chimps go deep in the vast forest in search of fruits hence making it more difficult to track them. The dry season is ideal for those who are interested in the canopy and nature walks.
There is no guarantee that you will be able to see them especially in Nyungwe forest.
Tracking the chimpanzees in Cyamudongo offers a greater chance of finding them because the forest is smaller and isolated.
Chimpanzee permits cost $90 per person. Bookings are made directly through the Rwanda Development Board or your Tour Operator. The chimpanzee permit fee includes a ranger and guide assigned to move with you and your group. You will be required to show your chimpanzee tracking permit at the park entrance just before proceeding to the beginning point.
Visitors can spend more time observing the chimpanzees unlike with mountain gorillas where the viewing time is strictly one hour.
Children under the age of 16 years will not be allowed to track chimpanzees.
It takes four hours of driving by road to reach Nyungwe forest from the capital Kigali. One can also take a domestic flight from Kigali to an airstrip close to the park office.
Unlike mountain gorillas, the chimpanzees in Nyungwe forest are not fully habituated. They are not as organized as mountain gorillas. Chimpanzees don't settle in one place and this makes for a demanding but also thrilling task of following them wherever they go. It is for this reason that sighting them is not guaranteed. However, most people who track the chimps see them eventually because of the advanced methods of tracking and the ability of the experienced Rangers to know their previous place of rest.
While planning for chimpanzee tracking in Nyungwe National Park think about packing enough drinks, snacks, rain jacket, good hiking shoes, a longs sleeved shirt, sun glasses and insect repellent. Do not forget to move with a good camera and binoculars.
Information about Chimpanzee Tracking in Nyungwe Forest
Minimum age for chimpanzee tracking is 15 years
Must be pre-booked the day before
Largest group size per guide is 8
Starts at 5:00 am from Gisakura or 5:30 from Uwinka
Good to know:
Raincoats, boots and walking sticks are available from the reception
All Nyungwe hikes are classified as hiking in protected area/National Park.
Animals live in their natural habitat
Guide and permit are needed