Nyungwe offers 13 hiking trails, some with tongue-twisting names. Try pronouncing "Igishigishigi" quickly, which is the name of an easy 1.7 km trail that begins near the Uwinka Reception Centre. By the way, Igishigishigi means tree fern. The trails range from easy to difficult and from 1.7 kms to 42 kms in length.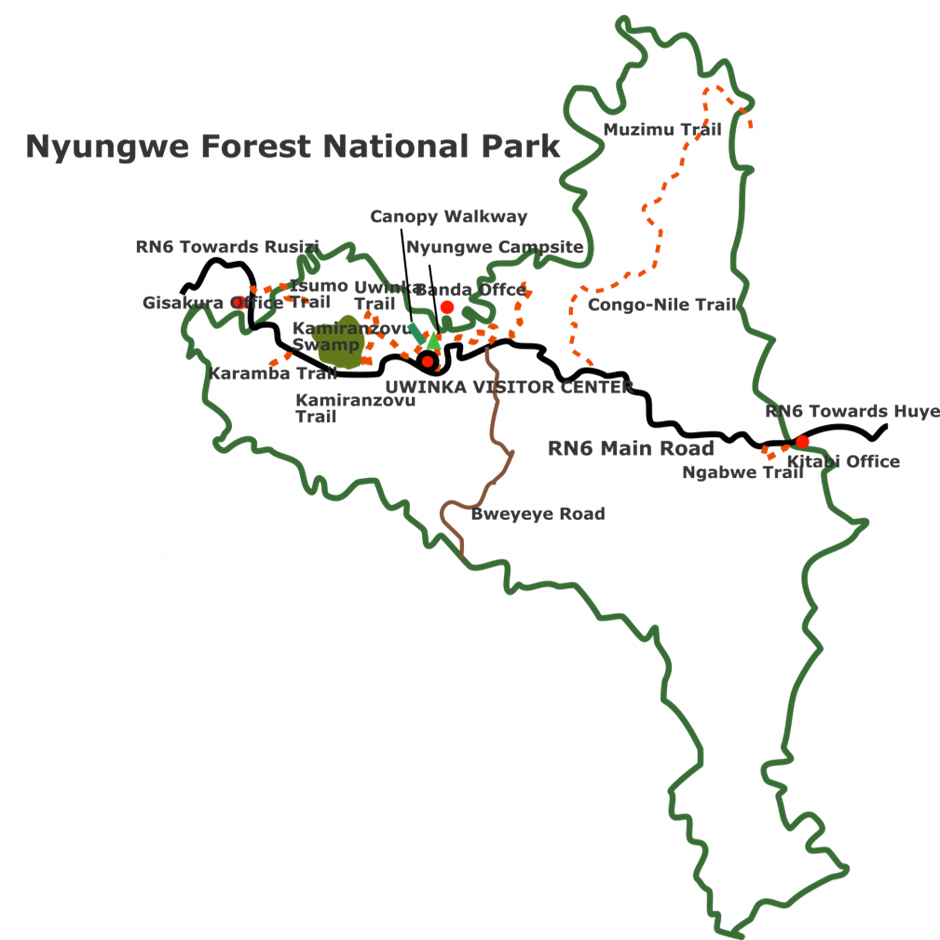 Park Guides are required for all walks and hikes through Nyungwe.
Hiking Trails from Uwinka Reception Centre
Trail name
 

Distance 

Ave. hrs walking
Start time 
Observations
Imbaraga
9.8 km
6 h
9am
Four waterfalls and great viewpoints
Igishigishigi
2.1 km
1 h 30
8am / 10am / 1pm /

3pm

Canopy walk views
Canopy

walkway

2.

2.1 km

2 hours

8am / 10am / 1pm / 3pm

Forest view from the forest canopy

Umugote
3.6 km
3 h
9am / 1pm
Viewpoints on the west of the forest
Mount Bigugu
6.6 km
6h
9am
The highest point (2950m), 1 camping site
Kamiranzovu swamp
5.9km
3.5h
9am / 1pm
Enjoying viewpoints in a 13km swamp with a variety of orchids
Irebero
3.5km
3 h
9am / 1pm
Viewpoints, birds…
Umuyove
5.6 km
4h
9am / 1pm
1 waterfall,  forest canopy( mahogany trees)
Rukuzi 
9.1km
5h
9am
Viewpoints to the village
Source of the Nile trail
2 km
1:30 h
9 am
Visiting new furthest source of the Nile Gisovu
Hiking Trails from Gisakura Reception Centre
Trail name
 

Distance 

Ave. hrs walking
Start time 
Observations
Isumo  (Kamiranzovu waterfall)
5.3 km (x2)
4 hours
9am / 1pm
Crosses the large tea plantation
Karamba
2km
3 hours
8am / 1pm
Good for bird watching.
One and Only Nyungwe house trail
5km
1h30 h
8am / 1pm
Bird watching  and great view points
Ndambarare Waterfall
9.6 km
3h30 hours
9 am,1pm
Different view point tea factory tea plantation
Rwenzori Turaco
Good to know:
Raincoats, boots and walking sticks are available from the reception
All Nyungwe hikes are classified as hiking in protected area/National Park.
Animals live in their natural habitat
Guide and permit are needed
Most of the websites and contacts about Nyungwe Forest online are not official park websites and the information is sometimes wrong and not reliable.
We recommend that you contact the tour operators listed, for further information, click here.